Welcome to our Reader Community
Rue's Butterfly is a special book focused on a journey of reinvesting in life after loss and learning to live in the moment. It's goal is to help readers understand that "You can't wait until life isn't hard anymore to be happy." as Jane aka Nightbirde from AGT (America's Got Talent) said so eloquently. The book and community built around Rue's Butterfly's launch journey, along with special events hosted by the publisher or Donna McCart Welser and their bucket lists are this website's focus.
Editorials, Book Reviews and Awards are also a big part of a book's launch and life cycle. Posting details on personal, professonal and other editorial reviews along with awards that Rue's Butterfly qualfies in or wins will be found on this page.
There is also a link to a personal store that will feature author signed copies of Rue's Butterfly which will be the only place other than book signings to obtain a signed copy.
Take a look around and thank you for following the journey of the book launch for Rue's Butterfly. Cheers.
McCart Welser joins Firebird Award Circle of Winners
AUTHORS JOIN THE INTERNATIONAL FIREBIRD BOOK AWARD CIRCLE OF WINNERS
On 19 October 22, Speak Up Talk Radio announced the winners of the recent FIREBIRD BOOK AWARDS contest.
One of the winning entries was from New Jersey author Donna McCart Welser whose book titled Rue's Butterfly was first place winner in the Grief Memoir and Caregiving categories.
For more information see:
https://lnkd.in/enWY8mdw
🤩✨Thanks so much to #speakuptalkradio for this opportunity. I'm so honored that Rue's Butterfly resonated with the judges and was a first place winner in two categories-Grief Memoirs and Caregiving categories. * * This week I was interviewed by Pat Rullo host of the
nationally syndicated
@speakupradioh on my book Rue's Butterfly that recently won two 1st place #FirebirdBookAwards. We talk about the human spirit through #caregiving, support of #friends and how we are changed over time. Take a listen to this and her other podcasts air on Speak Up Talk Radio available on iHeart, Sirius, Pandora, Spotify, Apple Podcasts, Google Podcasts, and at least 50 other online radio stations!
or click the link below to hear our interview specifically:
https://www.speakuptalkradio.com/donnamccartwelser/
Rue's Butterfly continues to achieve success this book award season. A second (silver) and third (bronze) in personal memoirs and transformational non-fiction relationships family memoirs 🍾 from The Bookfest Awards 📚 #bookfest
There were over 667 entries and being among those honored is an achievement to be proud of. I was invited to join other BookFesters this weekend, October 22nd and 23rd to watch The BookFest stream
with awesome speakers and recognition for the winners
. The Salute to The BookFest Award Winners video played throughout the weekend and then aired in its entirety at the end of The BookFest Sunday night.
In addition to certificates, badges and the standard trophy case opportunities this program comes with the potential to submit your book for consideration to be displayed in a video to be played in Times Square NYC later this year.
What a crazy week!!
What do others say about Rue's Butterfly? Early praise for Rue's Butterfly's and editorial reviews are coming in.
Rue's Butterfly debuted on Amazon as a 'hot new release' on May 2, 2022. Shortly after that it hit best seller in multiple categories for both the eBook and paperback editions. Based on it's seat at number one Rue's Butterfly carries an Amazon Best Seller orange banner.
Amazon Readers currently rate Rue's Butterfly with five stars!
One editorial review says...
"Nothing can ever fully prepare us for death. In this moving memoir, Donna finds herself prematurely navigating losses of her loved ones, while learning how to embrace this grief and create a new normal. She captures the true meaning to life! " -Leila Naylor, author of Voyage of An Independent Thinker
For more editorial reviews see Bits & Pieces on this website! For reader reviews check out Amazon!!
Reader Views Book Review Gives 5 stars
Reader Views Book Review by Stephanie Elizabeth Long appears in the June 22, 2022 Book Review. "
The author of "Rue's Butterfly" penned a beautiful memoir that examines a harrowing tale of grief and the process of healing and moving forward after a loved one's death. With Donna's encouraging words, the reader moves through the process of caregiving, grief, and life after loss. Readers are prompted with questions/activities to reflect upon throughout the book. I thought this was incredibly useful as it provides direction for those who may feel overwhelmed or lost. It definitely got me thinking about mortality and the importance of living in the moment.
It's easy to get caught up in the humdrum of everyday life or wallow in grief and put your dreams on the back burner for later. But the author reminds us that tomorrow isn't guaranteed—we need to make our happiness a priority now. Start saving for that dream vacation, quit the job that makes you miserable, or leave the relationship that no longer serves you. Don't wait for tomorrow, and don't wait to read this book!" Up Next:
Rue's Butterfly will also be featured in the Reader Views newsletter: June 27, 2022 in the "Recent Reviews" section. Click the gold sticker above to be taken to Reader Views website.
It will also be listed on their Author Showcase page in the "Recent Reviews" section during that same week. Rue's Butterfly has also qualified to compete in Reader Views Book Contest.
BOOK VIRAL GIVES
RUE'S BUTTERFLY 5 STARS
Welser creates recognisable and well-crafted snapshots of life, both untroubled and tragic, using delicate imagery and realism to transport her readers with her through waves of hope and despair, and of recovery and rehabilitation.
With the authority of lived experience, Welser recommends the constructive steps of positive intent, a bucket list and conscious choice, but does so with empathy and understanding, using realistic suggestions and anecdotes of these in practice. This creates a journal to be dipped into; a support document helping the reader to create a plan of action; a virtual road to recovery.
Welser concludes her memoir with the beautiful analogy of the Japanese art of 'kintsugi', the repairing of broken pottery by inlaying the cracks with gold, thus eloquently demonstrating how despite being broken, it is possible to move on whilst retaining valuable and joyful memories.
Generously transparent and thoughtful, Welser gives her all in her writing, providing a lifeline for others caught up in the same inevitability, and solid advice for all to consider the possibilities of tomorrow, whilst living for today. Rue's Butterfly is a highly recommended 5-star read!
Up Next:
Rue's Butterfly will also be features on BookViral's Blog called "Why we like reading memoirs" at the url below:
https://bookviralreviews.com/author-publishing-tips/why-we-like-reading-memoirs/ Rue's Butterfly has also been qualified to compete in Book Viral's Millenium Award Book Contest.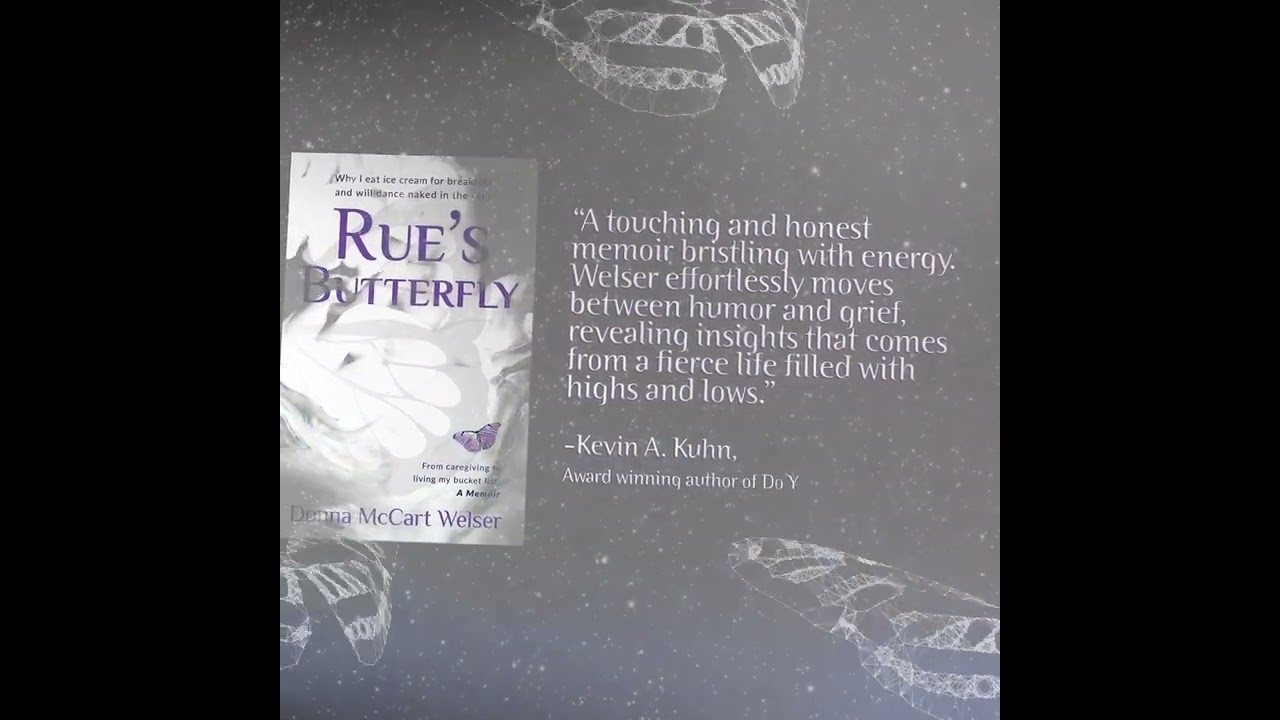 Click for
unboxing
video Author signed copies of this book available below in the section marked "Author signed paperback and hardcover available".
Hard Cover Released includes Kirkus Review
Now available in hard cover. Just in time for the holidays we have released the hard cover editioins of Rue's Butterfly on Amazon and Ingram Spark. Additional editorial reviews including the
Kirkus Review:
"A tough, uplifting account of a spouse's terminal illness—and helpful advice for survivors."
~Kirkus Review
Kirkus
says -
OUR VERDICT
GET IT
The Official Book Launch Event for Rue's Butterfly will be held on July 17th from 1 pm to 3:30 pm @Ricca's Brick Oven & Bar, 104 Fairview Avenue, Hammonton, NJ.
This event will celebrate those that supported the publishing pre-sale process and helped make Rue's Butterfly a reality. We understand that some supporters may not be able to attend based on distance. Portions will be taped or live-streamed.
If you are able to attend, please let me know if you are bringing others. I need to give Ricca's a headcount.
Author Signed Copies available Paperback and Hardcover
From Caregiving to Living My Bucket List
"My life was broken and put back together in unexpected ways that made it multidimensional and extraordinary. Learning to live in the moment has not been easy. Rewriting the story continuously and consciously would not have happened without the brokenness."
Click here to purchase an author signed copy. Note: Standard paperback version and eBook still available through Amazon - link bottom left of this web page.
Book Club & Media Link (click photo)
Free electronic or paper copy of Rue's Butterfly can be provided to book club leaders, podcast hosts and others allowing them to read and preview Rue's Butterfly for assessment of content.
Media kit and other materials, discussion topics and author bio are available on this website to allow for preparation book clubs to enhance the book club readership experience. Donna will participate in a working discussion Rue's Butterfly at no cost if book clubs are interested.
Win a special bucket list journal in our:
"Where did you read it?" Giveaway.
Send in photos of you reading Rue's Butterfly. We will select a quarterly winner to receive a bucket list journal of our choosing!
!!Coming Soon - first journal expected to be delivered during September 2022!!
SPOT A TYPO?
To date we have identified three typos in the released first edition of Rue's Butterfly. If you spot another please email so it can be addressed in future editions : donnamcwelser@gmail.com
Known typos in paperback edition sold from May 2nd to October 15th, 2022:
Pg. 50 Santa Ana mispelled
Pg. 66 Section 7 Sentence 5 word he missing
Pg. 98 Journal Date should be 2011 These typos should be corrected in later versions barring printer errors.
Your Bucket List Activities

Send in photos of you completing your bucket list activities for our bucket list gallery! Images may be emailed to DonnaMcWelser@gmail.com




Never Write Alone (click photo)

Book Creators & New Degree Press -

Book Creators offers a community-powered writing experience designed to help aspiring nonfiction authors, novelists, memoirists, thought leaders, and poets. The goal is to help each author create a first draft manuscript, and a path forward to publish the work. Each aspiring author starts their experience with a one-on-one call with Professor Koester to discuss their topic and goal for the book. From there, they join a weekly virtual seminar course with other authors where collaborate and get access to a fast-paced, community-powered experience to help develop and write your book. Author's are paired up with a professional editor for coaching and writing feedback.




Professor Koester & the Book Creator program have set an ambitious goal to help 10,000 authors in the next 10 years, and this open course is designed to make the book creation and publishing experience accessible to all.

More Editorial Reviews ...

"A touching and honest memoir that is bristling with energy. Donna effortlessly moves between humor and grief, revealing insights that come from a fierce life filled with highs and lows." —Kevin A. Kuhn, Award winning author of Do You Realize? A Novel.




"A beautiful story about love and death and perseverance. Donna gets to the heart of the matter and does not shy away from the topic of death but rather throws others a life line to pull through their own journey. I am beyond happy for her that her bucket list keeps growing only because she works hard to consistently complete her goals." Kuri Levine author, Autism with a Side of Sushi

More Editorial Reviews ...

"Donna McCart Welser, a confirmed apocaloptimist, has authored an intimate, yet highly resonant book that is imbued with wisdom, courage, humor and adventure. She invites us to learn from her own hard-earned lessons and - instead of preaching to us - guides us as a trusted friend." - Matthew J. Goldberg, author of Hot Ice Cream: Inspiring Life Lessons from Our Children




"In a memoir both heart-wrenching and uplifting, Donna shares her story of surviving the devastating loss of her husband and rebuilding her life in the aftermath. Donna's story resonates with relatability, wit, and the strength that hardship instills in the human spirit." -Zena Logan, Producer, Real Housewives of Orange County, Real Housewives of Beverly Hills.







More Editorial Reviews ...

"As a bereaved mother on a forever journey of grief, who has learned to survive and find joy in life again, seeing Donna's feelings of her own grief and the want to push through and heal, confirms that the love of family and friends is what we all need to accept in our times of despair!" -Kelly Lemanowicz, President of Smiles from Kara, a 401c foundation




"Pandemics, crisis, and losses are all a part of life. No one said it would be easy. I find easier to navigate when people like Donna share how they navigated their rough times. When you read her story, it makes you see yourself, and you realize you are not alone. She speaks to the apocaloptismist in us all. Don't know what that word means? It's another reason to read this book." -Christopher Hampton - The Champiam Organization, Motivational Teacher and Author of Everyday Leadership For Everyday People
Sign up for our Newsletter
Bits & pieces Book Store NDP Authors on amazon